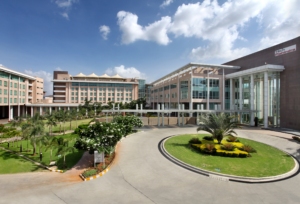 Recognized for deep domain & horizontal digital expertise in delivering contact center CX services 
Mumbai – October 06 2021: Tech Mahindra, a leading provider of digital transformation, consulting and business re-engineering services and solutions announced today that they have ranked its Business Process Outsourcing arm No 1 in OneOffice Alignment in Horses for Sources Report 2021. Tech Mahindra placed 5th amongst Top 10 Digital Contract Service provider 2021 and recognized for deep domain and horizontal digital expertise in delivering contact center CX services.
Recognized for delivering smart, intuitive, and strategic Digital Contact Center Solutions, they have labeled the research team at Horses as 'A digital-first provider with innovative capabilities' Tech Mahindra Business Process Services for Sources. Tech Mahindra is expanding its presence in the market with human-centric solutions with a battery of in-house and partner-driven, AI-based intelligent automation, smart analytics, and intelligent intelligence solutions. Sub-positions for each Top 10 report are:
Positioned as #1 in One Office Alignment
Positioned as #2 in Breadth and Depth Services
Positioned as #5 in

Innovating overall

Positioned as #6 in Co-innovation and Collaboration
Positioned as #6 in Growth
Birendra Sen, Business Leader, Business Process Services, Tech Mahindra, said, "Tech Mahindra's business process services along with its portfolio organizations is committed to delivering a holistic cloud-based digital contact center solution which includes customer experience design, predictive & machine learning/natural language process based analytics and intelligent automation capabilities. The recognition is a testament towards our well-rounded BPS portfolio, its strength, strategy, and vision to enhance customer experience services."
Tech Mahindra is offering customized hyper-personalized Cloud-based solutions targeting end-user digital experience, strategy, creative, content, and commerce offerings through BIO Agency, BORN Group, Mad*Pow, and Eventus.
"For OneOffice alignment, Tech Mahindra's digital-first approach and dual focus on EX and CX are really resonating with clients.  This is supported by a strong technology capability including proprietary tools and analytics frameworks", said Melissa O'Brien, Research Leader, CX Services"
Business Process Services by Tech Mahindra are based on Next Gen AAC Models i.e. Analytics, Automation and Consulting and delivered through a highly-skilled multilingual Human – Digital Workforce of 60k plus operating from 15 countries & cover 10 plus industries (Communication, Media & Entertainment, Retail & CPG, Healthcare & Life Science, Banking & Financial Services, Transport, Hospitality & Logistics, and Manufacturing & Utilities).
About Tech Mahindra
Tech Mahindra offers innovative and customer-centric digital experiences, enabling enterprises, associates, and society to rise. We are a USD 5.1 billion organization with 126,200+ professionals across 90 countries helping 1058 global customers, including Fortune 500 companies. It focused on leveraging next-generation technologies including 5G, Blockchain, Cybersecurity, Artificial Intelligence, and more, to enable end-to-end digital transformation for global customers. Tech Mahindra is one of the fastest-growing brands and amongst the top 15 IT service providers globally. Tech Mahindra has consistently emerged as a leader in sustainability and recognized amongst the '2021 Global 100 Most sustainable corporations in the World' by Corporate Knights. With the TechM NXT. NOW framework, Tech Mahindra aims to enhance 'Human Centric Experience' for our ecosystem and drive collaborative disruption with synergies arising from a robust portfolio of companies. Tech Mahindra aims at delivering tomorrow's experiences today and believes that the 'Future is Now.
We are part of the Mahindra Group, founded in 1945, one of the largest and most admired multinational federations of companies with 260,000 employees in over 100 countries. It enjoys a leadership position in farm equipment, utility vehicles, information technology, and financial services in India and is the world's largest tractor company by volume. It has a powerful presence in renewable energy, agriculture, logistics, hospitality, and real estate. The Mahindra Group has a clear focus on leading ESG globally, enabling rural prosperity and enhancing urban living, with a goal to drive positive change in the lives of communities and stakeholders to enable them to rise.